Mewar Festival
Royal Indian Tours offers a dazzling opportunity to the tourists who want to be delighted by the sagas, myths and tourist attractions of medieval and period traditional panoramas. Fairs and festivals in the country of India are a fascinating blend of visual marvels with the Mewar Festival gripping a pleasure and self-importance of place in the itinerary. Mewar festival is one of the much talked fairs & festivals in the desert state of Rajasthan, India. The Mewar Festival of Rajasthan, India provides a brilliant opportunity for sightseeing and recreational activities.

Visiting Mewar Festival includes a tour to Udaipur - the city of sunrise. This fascinating festival of Udaipur (also known as the Romantic City or the City of Lakes), Rajasthan is celebrated to welcome the arrival of spring (the King of Seasons). This festival overlaps with Gangaur Festival in the city of dawn, Udaipur, Rajasthan, India. The festival has its own charm and never fails to impress its visitors. The festival of Gangaur is very popular festival in the state of Rajasthan, India and it is celebrated with great dedication and devotion by womenfolk. During this festival women and maiden girls of Rajasthan dress themselves in their best clothes and beauty their hands and feet by drawing stunning design with Menhdi paste. Gangaur Festival is dedicated to Goddess Gauri, the spouse of Lord Shiva. In this auspicious festival Goddess Gauri or Parwati and Lord Shiva are worshiped. Women worship for well being and long life of their husbands. Unmarried young girls worship for having good, loving and caring husbands.

The Mewar Festival of Udaipur, like other fairs and festivals of Rajasthan, is full of fun & folic. Like other fairs and festivals of Rajasthan, India the major attraction of Mewar Festival is its procession. Enjoying in whole city of Udaipur, the procession ends at the Gangaur Ghat at Lake Pichola. Here, the images of Gauri and Shiva are shifted to the special boats amidst a gala celebration like singing religious songs and dancing. After ending of religious part of this festival, begins the cultures events. During this festival one can enjoy cultural events, like songs, dances, other programs. The Mewar Festival ends with an exciting fireworks display.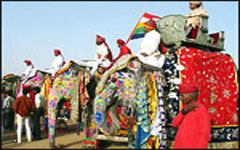 The Mewar Festival of Udaipur is a festival which is worth visiting and not to be missed. If you have really planned to be a part of the fascinating Mewar Festival, the most important thing is to know the exact time of the festival. The Mewar Festival coincides with the Gangaur Festival. This festival begins on the first day of Hindi month - Chaitra, a day after Holi.

Besides Mewar Festival and Gangaur Festival of Udaipur, the city also offers a brilliant opportunity for exploring various magnificent forts, elegant palaces, museum, havelis, breathtakingly beautiful lakes, and other cultural and historic tourist attractions. Welcome to Udaipur, the city of lakes. Come and become a part of Mewar Festival and Gangaur Festival.

How to reach there

By Air: Udaipur is well-connected by air from all the major airports of India.

By Train: Udaipur, the city of sunrise, is well-linked by a good railway network from all the major cities of India.

By Road: The city of lakes, Udaipur is also easily accessible by roads from all the major cities of North India.



SEND ONLINE QUERY