Culture of Rajasthan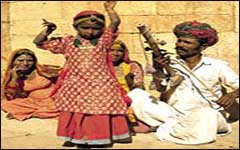 Hindi is the official language of the state. But the principal language is "Rajasthani", and the four major dialects are Marwari in the west, Jaipuri in the east, Malwi in the southeast and Mewati in the northeast. But Hindi language is replacing Rajasthani. Moreover, you will find English speaking people in all the major cities, and in remote villages also you will find someone who can speak and understand English. But other languages are completely unknown. You may ask Tour Operators to help you on this and they do have guides who knows almost all the languages.

Music & Dance
Every region has its own very dialect of music and dance. The Ghoomar dance from Udaipur and Kalbeliya dance of Jaisalmer have international recognition. Folk music is a vital part of Rajasthan culture. Songs are used to tell the legendary battles of Rajputs. Folk songs are commonly ballads which relate heroic deeds, love stories, and religious or devotional songs known as bhajans and banis and often accompanied by musical instruments like dholak, sitar, sarangi etc.

Religion
Hindusim is the main religion of Rajasthan. Other significant religious groups in the state are the Jains and the Muslims. There are many local folk heros and local deities such as Pabuji, Ramdeoji, Gogaji, Mehaji, Tejaji & Harbhuji.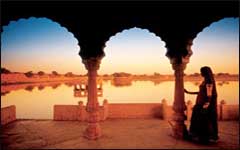 Art & architecture
Rajasthan is known for its traditional and colorful art. The block prints, tie and die prints, Bagaru prints, Sanganer prints, Zari embroidery are major export products from Rajasthan. Handicraft items like wooden furniture and handicrafts, carpets, blur potteries are some of the things you will find here. Rajasthan is shoppers paradise.

Rajasthan is famous for the majestic forts, intricately carved temples and decorated havelis. Jantar Mantar, Dilwara Temples, Chittauragrh Fort, Lake Palace Hotel, City Palaces, Jaisalmer Havelis are true architectural heritage.

Shopping
Rajasthan often called as the Shoppers Paradise. Rajasthan is famous for textile, semi-precious stones and Handicraft. Know Arts and Crafts of Rajasthan




SEND ONLINE QUERY