Horse Safari
The Horse: Marwari - the desert horse of Rajasthan. Young horses are bought and reared in the hills. His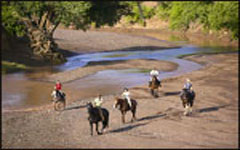 dexterity in negotiating the narrow bridle paths in the hills - every manoeuvre so safe and simple, has to be experienced to be believed.

The Characteristics: The Marwari has a beautiful head crowned by perky lure shaped ears meeting at the tips. In line with his desert elements when asked he provides a very smooth and fast ride.

The area : Nainital is situated in the Kumaon hills where thick wooded hills, snow capped mountains in the distance and clear pine scented air were a respite from the hot steamy plains.

It was here that Col. James Edward Corbett was born. His love for the richness of the region and sensitivity to the miseries of the simple hill folk, were to shape his life as a courageous hunter of the man-eating tigers & leopards that plagued the villagers. Later on he became a visionary conservationist and author.

Corbett National Park is rightfully named after the man who was instrumental in its creation. It is here that the first three non days of riding are spent. With Jeeps and Elephants as modes of transport, one gets an excellent opportunity to examine, survey and enjoy the diverse flora and fauna of the Park.

The Forest Lodge and Tiger Camp provide sumptuous meals, clean comfortable bed and bath and an ambience that matches the wilderness. The first phase of the ride is easy, through thick peripheral reserve forests of Sal. Canter or gallop on the soft tracks and the opportunity to stop and examine whatever catches your fancy, is always there. Camping sites provide all the magic of the Jungle, the nocturnal sounds, bright lit skies and tales around a crackling camp fire, all make a heady cocktail.

The second phase of the ride begins the ascent into the hills. It provides the thrilling adventure of an uphill climb on narrow bridle paths, breathtaking views across growing hills, valleys and gorges and the changing vegetation at every turn. The Lodge at Pangot provides great comfort after a good days riding. The descent into Betalghat is equally dramatic. Horse Safari


Horse safari on the trails of Jim Corbett & wildlife viewing in Corbett National Park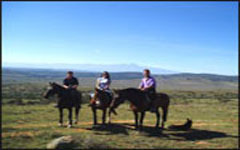 Day 1:
Arrive at Kathgodam at 0615 hr. after an overnight journey by train from New Delhi . Transfer to Tiger Camp for wash & change. Breakfast. Check into the forest lodge inside the Corbett National Park . Afternoon jeep safari to look for the elusive tiger. Overnight at the lodge
Day 2:
Jeep and elephant safaris in the morning and evening provide the opportunity for the exciting, enchanting and ultimate experience in wildlife viewing in tiger country and beyond. Overnight at the lodge.
Day 3:
Early morning elephant safari inside the park. After breakfast A jeep safari to find the rare gharial crocodile. Afternoon - checkout and drive out of the park for a comfortable night stay at Tiger Camp.
Day 4:
Commence your horse safari in the foot hills of the Himalayas - You will follow the footsteps of Jim Corbett who used this trail regularly ride to Sitabani forest rest house. Lunch enroute . Sitabani is set in deep forest . The forest rest house will be our base for further activity. The variety of birds is especially good here. Overnight in tents.
Day 5:
Ride to Dachauri forest rest house. This ride takes us through the heart of the forest and area where Corbett spent a lot of time, and wrote about in his book "the temple tiger". Overnight in tents, the camp has a great setting - with a backdrop of the hills and the plains spread out in front..
Day 6:
Start ride into the Himalayas and ascend to Pangot, riding up through the hills to fantastic picturesque site, situated on a saddle - with a view of the Himalayas all around. Packed lunch enroute . Overnight in Pangot lodge , for a change in the lap of modest luxury
Day 7:
The lodge is our base for today's activity - resume your riding adventure in this beautiful environment. This is a spectacular ride through untouched deodhar and oak forest to "cheena peak" - for breath taking views of the awesome Himalayas . Overnight at Pangot lodge.
Day 8:
Early check out - visit Nainital, the favourite summer resort during the Raj days and even now - boat ride / Tibetean bazar / local handicrafts / decorative candles are available. After lunch, we drive to Kathgodam to embark our train for Delhi / Agra / Varanasi .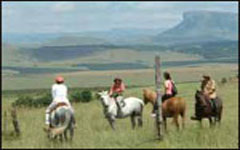 How to book
The booking of this itinerary is with Asian Adventures, B-9, Sector 27, Noida 201301. India
Te1: +91-120-252 4874; 322 5387. Fax: +91-120-252 4878. Email: wildindiatours@vsnl.com
To confirm your booking please send a 25% deposit by wire transfer to Standard Chartered Bank, Account No 52805001839 which is in the name of "Asian Adventures", using Swift Code "SCBLINBBDEL". Branch address: M-1 NDSE Part I, New Delhi-110049. India. Or you can send a cheque payable to Asian Adventures at B-9, Sector 27, Noida 201301. India Cancellation charges are 30 days before arrival date 25%, 21 days before arrival date 50%, 15 days before arrival date 90%, 7 days before arrival date 100% of the total itinerary cost.
Remaining balance to reach Asian Adventures at least 30 days before tour commencement by wire transfer (to bank account stated above) or by sending a cheque made payable to Asian Adventures to the above address. Alternativ ely you can pay the balance in cash upon arrival.
Best time to visit :
November-March

SEND ONLINE QUERY