Festival in Rajasthan
Welcome to the vibrant and colorful land of Rajasthan, India. The land of Rajasthan is dotted with many tourist attractions, like timeless monuments, magnificent forts, elegant palaces, beautiful lakes, stunning havelis, thrilling wildlife attractions, and many more. If truth be told, Rajasthan is a treasure of tourist attractions. The vibrant and colorful state of Rajasthan is also famous for its rich culture, traditions, history, and art and architecture.

But, apart from these attractions, Rajasthan is also well-known for its fascinating fairs and festivals showing Rajasthani culture, tradition and lifestyle. Rajasthan is a place where making merry needs no any boundary and barrier. Rich and poor, young or old, men or women, all become a part of festivals in full of mast (zeal and zest). The Fairs and Festivals add colors to the desert state of Rajasthan. Processions, camel race, turban tying, exquisite handicrafts, elephant race, mouthwatering Rajasthani cuisine, puppet show, culture programs, cock and bull fighting, amazing display of fireworks, camel trouping, cattle trading, folk dance, folk songs and folk music are the major highlights of Rajasthani fairs and festivals. It is said that, if you want to visit the vibrant and colorful state of Rajasthan, you must come to the state during its fair & festival period.

Some of major fairs and festivals of Rajasthan which are celebrated in the state with great zeal and zest are Camel Festival, Pushkar Fair & Festival, Urs Fair, Desert Festival, Brij Festival, Mewar Festival, Gangaur Festival, Elephant Festival, Teej Festival, Kite Festival, Summer Festival, Winter Festival, Holi, and Dussehra Festival. Welcome to the vibrant and colorful state of Rajasthan. Travel to Rajasthan with Royal Indian Tour and participate in the jubilant activities of fairs & festivals of Rajasthan.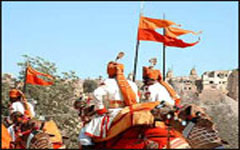 Desert Festival of Jaisalmer is a fascinating platform for showing performing arts, historical & cultural background of region. While you are in the city of Jaisalmer during the Desert Festival, you will also have a fascination opportunity to enjoy several events like camel races and turban tying competitions. During the Desert Festival, the city of Jaisalmer bears a festive cover with vibrant music and dance and sounds of laughter and joy.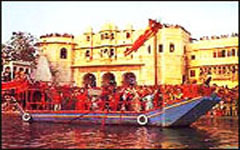 This festival begins on the first day of Hindi month - Chaitra, a day after Holi. This is the 18 day long festival and celebrated with great dedication and devotion particularly by womenfolk. Both married and unmarried women celebrate this festival with great fervor and devotion. Married women worship for welfare and long life of their husbands. Unmarried young girls worship for having good, loving and caring husbands. Young girls as well as married women dress themselves in their best clothes and jewelry to participate in this auspicious festival.




The Mewar Festival of Udaipur, like other fairs and festivals of Rajasthan, is full of fun & folic. Like other fairs and festivals of Rajasthan, India the major attraction of Mewar Festival is its procession. Enjoying in whole city of Udaipur, the procession ends at the Gangaur Ghat at Lake Pichola. Here, the images of Gauri and Shiva are shifted to the special boats amidst a gala celebration like singing religious songs and dancing. After ending of religious part of this festival, begins the cultures events.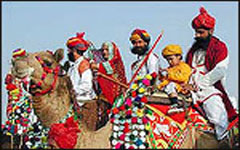 Pushkar is a city which is famous for its religious significance. Pushkar is the city is which is globally famous for its amazing camel fair and festival. There is a holy lake in the holy city of Pushkar which is also a major tourist attraction. Pushkar is a city which is famous for its Brahma Temple (according Hindu mythology Lord Brahma is considered to be as the creator of the universe). Pushkar is a city which is so sacred that no meat, fish, eggs and alcohol is allowed within the city. Really it is a fascination city.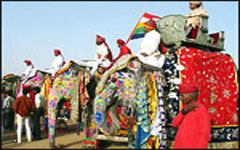 In Brij Festival, the people of Bharatpur and nearby villages take part with full of fervor and heartiness. People dress themselves in multihued attires and sing songs and dance in masti (zeal and zest). All the people whether they are men or women, old or young, celebrate this festival with great zeal and zest. Brij Festival is also known as Brij Mahotsava (great festival). During the Brij Festival people also enjoy colors and splash colors on everybody around. During Brij Festival whole of the place of Bharatpur is painted in glorious colors and no one is spared from being splashed with colors.




SEND ONLINE QUERY