Introduction Of Rajasthan
The Rajputs rose to prominence in the 9th and 10th centuries, and were a major force to reckon with medieval India. Passionately attached to their land, family and honour, the Rajputs treated war as a sport, and followed a strong chivalric code of conduct. Myths and legends of their valour, gallantry, sacrifice and courage are legion.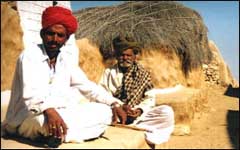 In olden days, the profession of the people decided their caste. This system has now been broken. Today, individuals have the freedom to opt for any profession irrespective of caste. The profession based caste system has now been transformed into birth-based caste system. People of various castes and sub-castes reside in Rajasthan.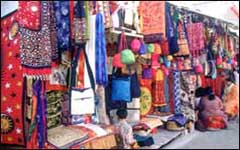 Buy the exquisite handicraft of Rajasthan until you have no money and energy left with you. Popularly knowns as Shopper's Paradise, Rajasthan presents and array of handicraft work, found specifically in this region only.

BIKANER : Best for camel products that include leather footwear, and its brilliant gesso work. Wool carpets and blankets , light cotton quilts, and brilliantly dyed cotton fabrics can be tracked down in the maze of tiny shops around Kote Gate, with KEM Road providing the shopping in larger stores.




Australia : Level 2, Picadilly, 210 Pitt St, Sydney, NSW 2000, Tel:-02-9264 4855, Fax:-9264 4860
Canada: 60 Floor St, West Suite No 1003, Toronto, Ontario, Tax:-416-962 3787, Fax:-962 6279
France : 11-13 Bis Boulevard Hausmann, F75009, Paris Tel:-01 45 23 30 45 , Fax:-01 45 23 33 45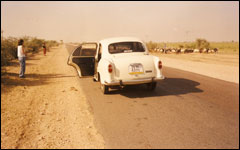 Collect or exchange as much small change as practical, very few people seem to have change, especially in rural areas.
Take a fair amount of small denomination US money for airport (departure) taxes and when you only need to exchange a small amount of money-like when leaving a country. You can also often get better prices in shops if you pay with greenbacks.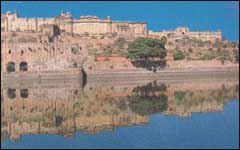 According to the Hindu Mythology, the Rajputs of Rajasthan were the descendants of the Kshatriyas or warriors of Vedic India. The emergence of the Rajput warrior clans was in the 6th and 7th centuries. Rajputs ancestry can be divided into two: the "solar" or suryavanshi-those descended from Rama, the hero of the epic Ramayana, and the "lunar" or chandravanshi, who claimed descent from Krishana, the hero of the epic Mahabharata. Later a third clan was added, the agnikula or fire-born, said to have emerged from the flames of a sacrificial fire on Mt Abu.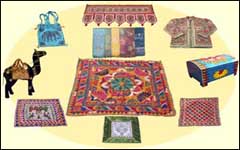 Rajasthan Handicrafts is popular not only in India but all over the world. The art and craft activity was well developed in Rajasthan since the very olden times. Rajasthan has been able to preserve the art and craft tradition of bygone era and continue to produce some of the most impressive products even today. Fascinating Rajasthan Handicrafts features Tie-and-Dye Fabrics, Fine Block Printed Textiles, Wood and Ivory Carving, Lacquer and Filigree Work, Finely Cut Precious Stones, Dainty Enameled Jewelry, Paintings and Pottery.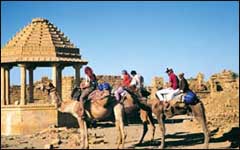 The Rajasthani's love for color and joyous celebrations, music, dance and festivals makes it one of the most colorful desert in the world. We have numerous fairs and festivals of the region. In addition to the festivals celebrated by the Hindus, Muslims and others, there are also the traditional fairs.
I recommend you to plan your tour in a way that you are a part of any of the following fairs and festival to truly know the rich heritage and culture of Rajasthan: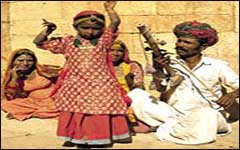 Hindi is the official language of the state. But the principal language is "Rajasthani", and the four major dialects are Marwari in the west, Jaipuri in the east, Malwi in the southeast and Mewati in the northeast. But Hindi language is replacing Rajasthani. Moreover, you will find English speaking people in all the major cities, and in remote villages also you will find someone who can speak and understand English. But other languages are completely unknown. You may ask Tour Operators to help you on this and they do have guides who knows almost all the languages.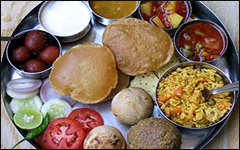 Each region in India has its own traditional dishes and specialities. In the royal kitchens of Rajasthan, as well as most other states, food is a very serious business and raised to the level of an art- form. Rajasthani cooking was influenced by the war -like lifestyle of its inhabitants and the availability of ingrediants in this region.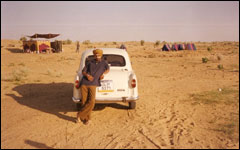 Pre-monsoon, which extends from April to June, is the hottest season, with temperatures ranging from 32C to 45C. In western Rajasthan the temp may rise to 48C, particularly in May and June. At this time, Rajasthan only hill station, Mt Abu registers the lowest temperatures. In the desert regions, the temperatures drops in night. Prevailing winds are from the west and sometimes carry dust storms (we call them andhi).







SEND ONLINE QUERY