Cuisine of Rajasthan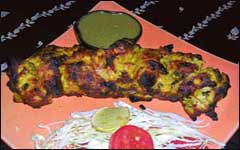 Each region in India has its own traditional dishes and specialties, but Rajasthani cuisine is more special. Rajasthan may be known around the world for its various tourist attractions, such as heritage monuments, magnificent forts, elegant palaces, stunning temples, exhilarating wildlife sanctuaries & national parks, and vast Thar Desert, but Rajasthan. But importance and specialties of Rajasthani cuisine cannot be ignored. Rajasthan is also known for it exotic & mouth-watering cuisine. The fame of Rajasthani cuisine is spread far and far.

In Rajasthan, cooking was influenced by the war-like lifestyle of Rajput inhabitants and the availability of ingredients in this barren region. Due to scarcity of water, cooking was much more effected. In the area of Barmer, Bikaner and Jaisalmer, cooks use minimum of water. They prefer to use milk, buttermilk and clarified butter instead of water.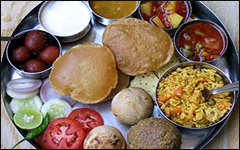 In Rajasthan, dried lentils, beans form home grown plants like Sangri, ker, etc are used freely. Gram flour is major component in this area and it is used to make some of the yummy dishes like Gate ki Sabji and Khata. In this area powered lentils are used to make Mangodi and Papad. In all over Rajasthan, Bajra and corn is used to make Kichadi, Rotis, and Raabdi. In Rajasthan, one can taste the various types of Chutneys, which is prepared from locally available spices like coriander, mint, turmeric and garlic.

The people of Rajasthan are also very fond of Ghee and they use lots of Ghee to make their many dishes. Dal-Bati is a famous dish of Rajasthan which is prepared with spicy lentils, wheat and lots of Ghee. Rajasthani people are also very fond of sweets. They also enjoy spicy curries. The daily food of Rajasthani people are unleavened breads which are made from barley, wheat, maize and millet.

Sweets or sweet-ladoos of Jaisalmer & Jodhpur, Jalebis of most big cities, Malpuas of Pushkar, Rasgullas of Bikaner, Ghevar & Mishri Mawa of Jaipur, Dil Jani of Udaipur, Sohan Halwa of Anmer, Til Papadi of Beawar and Mawa of Alwar are also known for its mouth-watering taste.

Some major vegetarian cuisines of Rajasthan are:
Dal-Bati, Raabdi, Panchkoota, Chaavadi, Tarfini, Bail-Gatte, Laapasi, Nukhti, Ghoogri, Dhungari Chhaachh, Aloo Matar Ki Sabji, Makki Ki Raab, Makki Ki Saag, Kicha Ki Sabji, Guwar Fali Ki Saag, Beans Ki Sabji, Vadi, Gajar ki Sabji, Matar Ki Sabji, Moranga Ki Sabji, and Kikoda Ki Sabji.

Some major non-vegetarian cuisines of Rajasthan are:
Laal Means (meat curry prepared in red chilies), Meat Pickles, Mohan Means (meat prepared in milk), Saanth Means (pickled wild boar meat), Safed Means (meat prepared in curd) and Khad Khargosh (meat of wild hare prepared by roasting underground)





SEND ONLINE QUERY