Agra Travel Guide
Royal Indian Tour offers you a glorious chance to be in awe of the magnificent Taj Mahal by the moonlight, in Agra -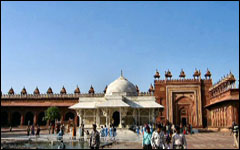 the city of Mughals. On your travel in Agra with Royal Indian Tour, you will have a brilliant opportunity to explore the history of a city that breathes in its brilliant past.

Agra is an ancient city with glorious historical past. While you will travel in Agra, you will find yourselves in back to the historic past of the city. The land of historically rich Agra is dotted with several architectural beauties. These beautiful architectures are mainly designed by the Mughal architect & planner under the sponsorship of Mughal Emperors. While you will travel in Agra you will visit several marvels of Indian architectural history like Taj Mahal, Agra Fort, Itimad-Ud-Daullah Tomb, Fatehpur Sikri, Sikandra Fort, Dayalbagh, Jama Masjid, and Chini Ka Rauza.

India's star attraction and one of the seven wonders of the world, the splendid Taj Mahal was built by the order of Shah Jehan, one of the greatest Mughal emperors, in the memory of his beloved queen Mumtaz Mahal after her death. This outstanding white marble monument has become the symbol of eternal love. This wonderful architecture was designed by a Persian architect Ustad Isa. Taj Mahal is known for its fabulous intricate design, calligraphic work, impressive design balance, perfect proportion, stylish domes, intricately carved screens and fabulous inlay work. The stunning red sandstone Gateway and Mughal Charbagh garden enhance the beauty of Taj Mahal. This is why the Taj Mahal is India's star attractions and has position among world's seven wonders.

Grand Agra Fort was built by Akbar, one of the greatest Mughal emperors, Akbar - the great, in 1565 AD. This grand fort is built in red sandstone, so the fort is also called as the Red Fort. Agra Fort, the architectural splendor, houses several beautiful palaces like Moti Masjid (a picture perfect structure), Diwan-e-Am and Diwan-e-Khas.

The tomb of Itimad-Ud-Daulah is also one of the well like tourists attractions with the city. This is shrine of Itimad-Ud-Daulah, the chief minister of Mughal Emperor Jehangir. This architecturally beautiful monument was built by the order of Nur Jahan in the remembrance of her father Itimad-Ud-Daulah. This beautiful architecture is also known as the Baby Taj or the Little Taj. Some people believe that its internal designs are more beautiful than of Taj Mahal. Many of designs of Taj Mahal were taken from the Itimad-Ud-Daulah Tomb.

Fatehpur Sikri is also worth visiting sights of Agra. It is another architectural beauty of Mughal Kingdom. It situated at the distance of 40 km from Agra. This amazing fort was built by the order of Mughal emperor Akbar - the great in the honor of Sheikh Salim Chisti. Here you will also visit Panch Mahal, Buland Darwaza, Tomb of Salim Chisti and famous Jama Masjid.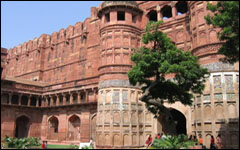 During your traveling in Agra you may also visit the Sikandra Fort which is situated at the distance of 12 km from Agra. This is predominantly the tomb of Akbar-the great. The construction of this fort was stated by Akbar himself but it was finished by his son Salim (Jehangir). Chini ka Rauza is also a worth visiting attraction of Agra. It is a tomb built in the memory of the Persian poet in Shah Jahan's court, Afzal Khan.

Traveling in Agra with Royal Indian Tour also offer a glorious opportunity for exciting shopping in Agra. The city of Agra is known for its intricate & exquisite handicrafts, fine arts & traditions and leather items. You will also find here wooden items, leather items, brassware items, stone decorative, embroideries and exotic cuisine. Welcome to Agra, India. Welcome to Taj Mahal.

How to reach Agra

By Air: Agra is well connected by all the major airports of India.

By Rail: Agra is well connected by train by almost the major cities of India.

By Road: Agra is well connected by all the major cities of India.



SEND ONLINE QUERY