Alleppey Travel Guide
Alleppey is one of the most popular tourist destinations in the state of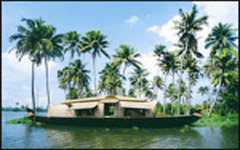 Kerala (God's Own Country), South India. Alleppey is also known as Alappuzha and famous for its fascinating backwaters, snake-boat races, boat cruise, houseboats, lagoons, lakes, and emerald green surroundings, coir products, and breathtakingly beautiful natural beauty. Alleppey is predominantly famous as an enchanting backwater destination. Alleppey is also popularly known as the Venice of the East.

Alleppey is a fairly lovely marketplace and town which is located on canals and surrounded by coconut trees. Thistown was founded by Raja Keshawadasan, Divan of Travanacore in 1762. Famous for its backwaters, Alleppey is also an ideal place for observe diverse animal and birdlife. When you will in Alleppey you will also see several architectures and temples.

Apart from backwater, Alleppey is also known for exciting snake-boat races held on second of August every year. This enchanting snake boat race is also known as Nehru Snake-boat race because it was Jawaharlal Nehru (the first prime minister of India) who inaugurated this competition in 1952.

Attractions of Alleppey
Kuttanad: Kuttanad is called as the rice bowl of Kerala because of itswealth of paddy crops. It is located at the very heart of backwaters.

Ambalapuzha Temple : It is situated 14 km away from Alleppey. In its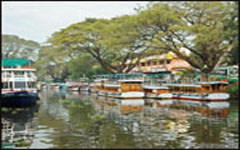 architectural features, the Sree Krishna Temple confirms the typical Kerala style. The temple is famous through out Kerala for 'Palpayasam' milk porridge of exceptional sweetness offered to the deity.
Chmapakulam Church : One of the oldest churches in Kerala, the St. Mary's Church is believed to be one of the seven established by St. Thomas. The annual feast at this church falls on the 3rd Sunday of October every year. The feast of St. Joseph is celebrated on March 19th.
Alleppey beach: One of the most famous and popular picnic spots in Alleppey, this beautiful beach houses Vijaya Beach Park which adds the attractions of the beach. Various entertainment facilities are available at Vijaya Beach Park.
How to Reach Alleppey
By Air: Kochi Airport and Trivandrum Airport are nearest Airport to arrive in Alleppey. Kochi (Cochin) is about 60 km from Alleppey and Trivandrum is about 150 km from Alleppey.

By Rail: Alleppey is connected by rail from many places with the rest of Kerala and India.
Alappuzha has its own railway station and trains from many places connect this city with the rest of Kerala and India.

By Road: Alleppey is well connected by road from all the major cities of Kerala and neighboring states.
SEND ONLINE QUERY