Darjeeling Travel Guide
Popularly known as the Queen of Indian Hills, Darjeeling is one of the
most beautiful hill stations in India. This popular hillstation comes under the state of West Bengal, India. West Bengal falls in east India. Darjeeling is the dream land of the east India. Since British period, this picture perfecthill city has been treated as a popular hill station. Tourists form all over the country and across come to this city to enjoy its breathtaking beauty. Surrounded by lofty mountains, Darjeeling is surely a worth visiting town and be sure its beauty never fails to impress its visitors.

The Queen of Hills, Darjeeling, as a popular hill retreat, offers eye-catching sights of several Himalayan Peaks. While you will be in Darjeeling, you will see that clouds seem to whisper to each other here. You will see beautiful view ofsnow-covered peaks. In the morning, when the first rays of sun fall on the snow-caped Himalayan peaks, no one can spare to get fascinated with this spectacular view. Apart from natural beauty, the city of Darjeeling is also globally famous for tea. Who doesn't know about the Darjeeling Tea? Exploring tea estates of Darjeeling also provides a spectacular view and an opportunity to meet local people.

Darjeeling, the Queen of Indian Hills, with its scenic beauty provides a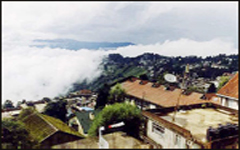 wide array of activities from restful pretty walks to more demanding activities such as river rafting and trekking for the adventurous tourists. Welcome toDarjeeling. Come and explore its incomparable beauty.
Darjeeling Attractions
Tiger Hill: Tiger Hill is one of major attraction of Darjeeling. Situated at the distance of 13 km from the main town, Tiger Hill is the fabulous spot for sunrise viewing over Himalayan peaks. One can also see the spectacular view of Mount Everest, the world's highest peak.
The Mall: The Mall, Darjeeling's famous commercial area, is also a worth visiting sight in Darjeeling. It offers the brilliant opportunity for shopping activities in Darjeeling.
Batasia Loop: Batasia Loop is the famous Railway Loop which is situated at the distance of 5 km from Darjeeling. A wonderful achievement of engineering, this Railway Loop is mesmerizing to watch the Toy Train twist its way around the loop.
Kanchenjunga View: Kanchenjunga view from Darjeeling will be one of the best activities during your tours to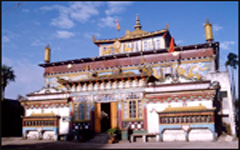 Darjeeling. Kanchenjunga is the world's third highest peak. Don't miss to see mesmerizing view of Kanchenjunga during your tours to Darjeeling. The Chowrasta (Cross Road) also provides the tourists an excellent sight for seeing the fabulous view of snow caped Kanchenjunga Peak.

How to Reach Darjeeling

By Air: To arrive in Darjeeling, one has to go through the Bagdogra Airport. Situated at the distance of 90 km from Darjeeling, Bagdogra Airport is nearest airport to reach Darjeeling. Bagdogra is well-connected by air with the important cities of the country.

By Rail: New Jalpaiguri Railway Station in Siliguri is the nearest railway station to access Darjeeling.

By Road: Nearest town is Siliguri. One can reach Darjeeling by taxi or bus from Siliguri. There is a regular bus service from Siliguri to Darjeeling.



SEND ONLINE QUERY