Delhi Travel Guide
Welcome to Delhi, the capital of India. Delhi is the major tourist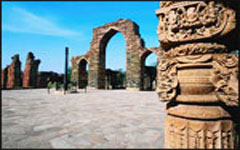 destination in India. It is the gateway to India for tourists from across. To travel in Delhi is to experience the heartbeat of India with all its complexities, contrasts and contradictions. Delhi depicts the real image of India with its contrasts, complexities, beauty, contradictions and dynamism. Delhi is the city where one can observe the excellent combination of past and present. Delhi is the city from where many dynasties ruled. Delhi is the city which is dotted with several historic and modern attractions. Delhi is the city which is rich in its culture and history. Delhi is located on the bank of River Yamuna. Delhi consists of Old Delhi and New Delhi. Both are worth visiting and fascinating. Exploring the city of Delhi can be mesmerizing and pleasing experience.

Delhi Attractions

Qutub Minar: Qutub Minar is one of the major landmarks of Delhi. The construction of this towering minaret was commenced in 1200 AD by Qutab-Ud-Din Aibak, the first Muslim ruler of Delhi. Qutab could only finish the basement of this tower. His descendant, Iltutmush, added three more storeys to this minar. Firoz Shah Tughlak finished the construction by adding fifth and last storey in 1368. Don't miss to visit this wonderful structure during your tours to Delhi.

Red Fort: While we talk about tourists attractions in Delhi. The name of grand Red Fort surely comes among others.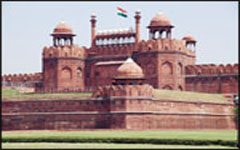 This magnificent fort was built by one of the greatest Mughal Emperor Shah Jehan in 1618. This grand fort was inaugurated in 1647 with a gala celebration. The fort was decorated with rich wall-hanging, silks from China and velvet from Turkey. This magnificent fort is built in red sandstone, so the fort is known as Red Fort.

Purana Quila (Old Fort): Old Fort is also a worth visiting historical monument in Delhi. It is said that this fort was constructed on the historic site of Indraprastha by Humayun and Sher Shah.

Humayun's Tomb: This is also the famous landmark of Delhi. It was built by emperor's mournful widow, Haji Begum in 1565 AD. The architecture of Humayun's Tomb is very impressive. This remarkable structure is built in red sandstone any beautified with stunning architecture.

Jantar Mantar: Jantar Mantar is an observatory. It is also the must visiting site in Delhi. It appears like a gallery of modern art. It was built by Sawai Jai Singh II of Jaipur.

Jama Masjid: Jama Masjid, the largest mosque of India, is also one of the major landmarks of Delhi, India. This known mosque was built by Shah Jehan.

Safdarjang's Tomb: Safdarjang's Tomb was built by Nawab Shauja-ud-Daula as a mausoleum of his father in 1753. Nawab Shauja-ud-Daula was a minister in the Mughal Court.

India Gate: India Gate is the most popular landmark of Delhi, India. Perhaps your tours to Delhi will be incomplete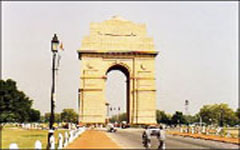 without paying a visit to imposing India Gate. India Gate is a war memorial in the memory of soldiers who laid their lives for the sake of the country during the First World War. Surroundings around India Gate provide a spectacular view.

President House: When you will in Delhi, India don't miss to pay a visit to President House. It is also the major landmarks of Delhi City. This palace was formerly the Viceregal Lodge. It is located in an area of 130 hectare. There are 340 rooms inside the Rashtrapati Bhawan.

Rajghat: Rajghat is also the worth visiting site in Delhi. It is situated on the bank or River Yamuna. This is the place where Mahatma Gandhi was cremated.

Other Attractions: Apart from above mentioned attractions of Delhi, Lakshmi Narayan Temple (also known as Birala Temple), Akshardham Temple, and Lotus Temple (also known as Bahai Temple) are also worth visiting landmarks in Delhi, India. Connaught Palace, Chadani Chowk, South Extension, Lajpat Nagar, and GK are also worth visiting site in Delhi. They provide exciting shopping opportunity in Delhi, India.

How to Reach Delhi

By Air: Delhi, the capital of India, is well-connected by all the domestic airlines with all the major cities of India. Delhi is also well connected with all the major countries by airlines.

By Rail: Delhi, the capital of India, is well-connected by rail with all the major cities of India.

By Road: Delhi, the capital of India, is well-connected by surface with all the major cities and towns of North India.





SEND ONLINE QUERY