Gwalior Travel Guide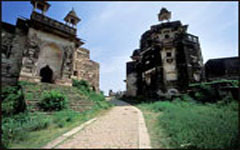 Gwalior is the perfect entry point into Madhya Pradesh. It will instantly give you a feel of the state's history, landscape and people. The people of Gwalior are as tough and resilient as its terrain.
They have crossed swords with the mightiest armies in the country down the ages; and more recently, they have come into conflict with the dacoits who have plundered the Chambal River Valley.
Named after Saint Gwalipa, Gwalior is a verdant city but only if you look at the canopy cover.

If, on the other hand, you turn your eye groundward, you'll see very little grass. The soil is pale terracotta in colour, and is amply strewn with loose stones and pebbles. A green carpet welcome is reserved for visitors in August-September, just after the monsoon.

Modern Gwalior is divided into four sections: the Old Town, the New Town, Lashkar, and Morar - which is the cantonment area. The city is watered by numerous rivers including the great Chambal in the north, the Sindh in the south, the Londara in the southeast, the Pawaya in the west and the Kunwari in the northwest. Right next to the Gwalior Fort is the Swarnrekha River. Begin your sightseeing with the Fort to get a feel of this picturesque town.

The ancient capital of Gwalior is steeped in the splendour of its past. A multitude of regning dynasties, of the great Rajput clans of the Pratiharas. Kachwahas and Tomars have left indelible etching of their rule in this city of palaces, temples and monuments. The magnificent momentoes of a glorious past have been preserved with care, giving Gwalior a unique and timeless appeal.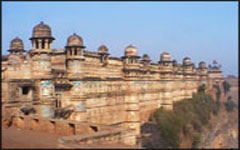 Gwalior's history is traced back to a legend: In 8 A.D. , a chieftain called Suraj Sen was stricken by a deadly disease. He was cured by a hermitsaint, Gwalipa, and in gratitude founded a city which he named after the saint who had given him the gift of a new life. The new city of Gwalior became, over the centuries, the cradle of great dynasties and with each, the city gained new dimensions from warrior kings, poets, musicians and saints, contributing 10 making it a capital renowned throughout the country. Today , Gwalior is a modern Indian city, vibrant and bustling.

How to Reach :

By Air : Regular flights connect Gwalior with Delhi, Bhopal, Indore and Mumbai.

By Rail : Gwalior is on the Central Railway's main Delhi-Mumbai and Delhi-Chennai lines. Among other major trains, the Taj and Shatabdi Expresses connect Gwalior with Delhi and Agra.

By Road : Gwalior is connected by regular bus services with Agra, Mathura, Jaipur, Delhi, Lucknow, Bhopal, Chanderi, Indore, Jhansi, Khajuraho, Rewa, Ujjain and shivpur




SEND ONLINE QUERY