Trivandrum Travel Guide
Thiruvananthapuram, formerly known as Trivandrum, one of the most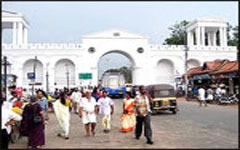 important travel destinations of India, situated in the state of Kerala, South India. The city is the gateway to enter the beautiful Indian state of Kerala. Thiruvananthapuram is the capital of Kerala, South India. It is one of the most beautiful cities of India. Located on swelling land of low coastal hills near the southern rim of Indian mainland, clean and verdant Thiruvananthapuram, formerly known as Trivandrum, is a prehistoric city which dates back to 1000 BC. Still the city of Thiruvananthapuram brilliantly survives tradition and modernity.

The picture perfect city of Thiruvananthapuram is located over seven mountain hills. It was once a part of the capital of Travancore princely state. The city of Thiruvananthapuram is fairly clean and well-planned city than other cities of India. The city enjoys exceptional beauty which is worth seeing and enjoying. The beauty of city is incomparable and beyond description. The city is dotted with many historical monuments, gorgeous gardens, elegant palaces, terrific temples, breathtaking beaches, beautiful backwaters, and several breathtakingly beautiful picnic & holiday spots.

Having several tourist attractions, the beautiful city of Thiruvananthapuram is also base to explore the various destinations of tourist interest of Kerala and entire South India. The city is rich in its culture and tradition. The city offers excellent accommodation facilities. Welcome to the city of Thiruvananthapuram. The beauty of the city awaits you. Be sure, Thiruvananthapuram will never fail to fascinate you with its various attractions.

Prime Attractions of Trivandrum -

Padmanabhaswami Temple - Padmanabhaswami Temple is one of the most important hallmarks of Thiruvananthapuram (previously known as Trivandrum) in Kerala, South India. Dedicated to Lord Vishnu, this temple overlooks the Padma Theertham Tank. The temple is architecturally superb and depicts an excellent blend of Dravidian and Kerala styles. The temple is beautified with fresco paintings and amazing stone carvings. The major fact about this temple is only Hindus allowed to enter this sacred Vishnu Temple.

Varkala Beach - A sea side resort - Varkala beach is one of the most important tourist attractions of Trivandrum. It is famous for water springs, Nature Centre and 2000 year old Janardhana Swami Temple.

Shankhumugham Beach - Located at the distance of just 8 km from the city of Trivandrum is a popular spot for viewing spectacular sight of sunset. This beautiful beach is dotted with many attractions. Here is the Chacha Nehru Traffic Training Park which is very popular among children and offers a brilliant opportunity for children to learn traffic rules. Here is also famous restaurant shaped like a starfish. Amusement park, recreation club, and Matsya Kanyaka are the other attractions of this beach.

Napier Museum - One of the major attractions of Trivandrum, Napier Museum houses a fine & rare collections of archaeological and historic artifacts, Kerala's bronze idols, ornaments & costumes.

Kovalam Beach - Trivandrum is base to visit Kovalam Beach - one of the most beautiful beach resorts in the world.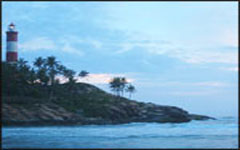 Literally, Kovalam means the "a grove of coconut" and truly dotted with coconut tree this beach resort offers an exceptional ambience for tourists and honeymooners. The breathtaking ambience of this beach soothes eyes and refreshes the tourists. The beach is very popular spot for swimming, skiing and surfing.

Shree Chitra Art Galllery - One of the most popular attractions of Trivandrum, this gallery displays the stunning paintings by Ravi Verma, Svetlova and Nicholas. One can also see stunning paintings from Japan, China, Bali and Tibet. It also displays wonderful works from Mughal, Rajput and Tanjore School of art in India.

Public Park - Public Park is also the major attraction of Trivandrum. It represents the clean and green aspect of the city. The major attractions of this park are Botanical Garden, Zoological Garden and Observatory. The botanical and zoological garden is one of the best zoos of the country. It is considered as the second oldest zoo of the country. There are an amazing collection of reptiles inside the zoo.

Anchunthengu Fort - This fort is one of the major landmarks of the city. This fort was built by the British East India Company in the 17 century.

Other Attractions: Some other attractions of Trivandrum and surroundings are Agastyarkoodam Peak, Beema Palli Mosque, Beema Palli Festival, Kaudiar Palace, Koyikkal Palace, Kulathupuzha Temple, Kuthiramalika Palace Museum, Neyyar Dam, Neyyar Wildlife Sanctuary, Nishagandhi Festival, Padmanabhapuram Palace, Paripally Gajamela, Swathi Festival, Vettukadu Perunal, Vizhinjam Rock Cut Caves, Aattukal Pongala, Aattukal Bhagavathi Temple, Peppara wildlife sanctuary, Veli Tourist Village, Vizhinjam - a fishing port, Aruvikkara - a pilgrim centre and a picnic spot.

How to reach Trivandrum

By Air: Trivandrum is well-connected by air from all the major cities of India and some major countries of the world. Delhi, Mumbai, Chennai, Goa, Cochin, Mumbai, and many more are well connected to Trivandrum by domestic airlines.

By Rail: Trivandrum is well-linked with all the major cities of India.

By Road: Trivandrum is well-connected by surface almost major cities of South India.





SEND ONLINE QUERY