Home » Wildlife Tours in India » Wildlife Safari Tour in India
---
Wildlife Safari Tour in India
Duration : 7 Nights / 8Days
Destinations : Delhi - Khajuraho - Bandhavgarh - Khana - Nagpur - Delhi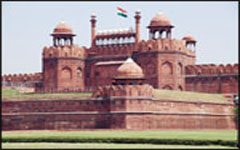 Day 01: Delhi - Khajuraho
On arrival at Delhi, you will be transferred to the airport to board a flight to Khajuraho. Khajuraho: A World Heritage Site, the village of Khajuraho is famous an outstanding group of temples with marvelous sculptural art.
On arrival, check in to the hotel. Spend the remaining Day in leisure Stay overnight at Khajuraho.

Day 02: Khajuraho - Bandhavgarh
By Road: 250 km in 5 hr Breakfast at the hotel. Proceed for a sightseeing tour of Temples at Khajuraho. Lunch will be at the hotel. Check out and proceed to Bandhavgarh. Bandhavgarh National Park: It is marked as the Project Tiger Park and has
a significant population of the White Tigers. On arrival at Bandhavgarh, check in at the resort for an overnight stay.

Day 03: Bandhavgarh
Breakfast at the resort. Proceed for a daylong tour of the jungles of the Bandhavgarh National Park. Enjoy 2 safaris in the park, which will enable you with the best opportunity to explore the varied flora and fauna of the park. Later visit the 2500 years old Bandhavgarh Fort and numerous temples en-route. The resort provides packed lunches to you on the trip. Stay overnight at the resort.

Day 04: Bandhavgarh
Breakfast at the resort. Proceed for a jeep and elephant safari to explore he rich population of wildlife of Bandhavgarh. Stay overnight at the resort.

Day 5: Bandhavgarh - Kanha
Breakfast at the resort. Check out and drive to Kanha National Park. Kanha National Park: It is one of the most popular tiger reserves of India located in the Mandla district of Madhya Pradesh. It came under the Project Tiger in 1974. You will also find a good number of Barasingha or reindeers in the park. Take an excursion to Kawardha, small town in Chhattisgarh located very near to the Kanha National Park. Visit the Palace of Maharaja Vishwaraj Singh and several 11th century temples at Kawardha. Return back to Kanha for an overnight stay.


Day 6: Kanha
Breakfast at the resort. Proceed for a daylong tour of the jungles of the Kanha National Park. Enjoy 2 safaris in the park, which will enable you with the best opportunity to explore the varied flora and fauna of the park. Take a Tiger Safari to spot a tiger in its own natural habitat. Stay overnight at the resort.

Day 7: Kanha - Nagpur
Breakfast at the resort. Check out and go for an early morning game safari into the forest. Later drive to Nagpur, popularly known as 'Orange Capital of India'. Check in to the hotel for an overnight stay at Nagpur.

Day 8: Nagpur - Delhi
Breakfast in the hotel. Check out and proceed to the airport to board a flight to Delhi. On arrival at Delhi, our executives will help you in transfer to airport for your onward journey or way back home.



SEND ONLINE QUERY