Wildlife Tours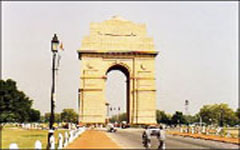 Day 1: Delhi
Arrival follows traditional welcome and transfer to hotel. Overnight stay at hotel.

Day 2: Delhi
After breakfast you will be taken for a full day tour of Old Delhi and New Delhi, covering the Red fort, the Jama Masjid, Raj Ghat, Purana Qila, Qutub Minar, Humayun's tomb, India gate, the Presidents House, the Parliament house, Bahai temple etc. Overnight stay at hotel.

Day 3: Delhi - Jaipur
On the third day of the tour, you will be driven to Jaipur, visiting the Amber fort on the way. The fort once formed the capital of the Amber state. Enjoy elephant ride as you ascend the Amber fort. The Amber fort is an excellent example of the Mughal-Rajput style of architecture. The main attractions inside the Amber fort are Diwan-i Am, Diwan-i-Khas, Sheesh Mahal, Sukh Niwas, Jai Mandir, Shila Mata temple. Overnight stay will be at hotel in Jaipur.

Day 4: Jaipur - Ranthambhore
Breakfast follows a half-day city tour of Jaipur, covering the Hawa Mahal or the 'Palace of Winds", City Palace, Jaigarh Fort, Jantar Mantar (observatory), Nahargarh Fort etc. After the half-day excursion you will be driven to Ranthambhore. Reaching Ranthambhore check-in and spend the night at hotel.

Day 5: Ranthambhore
Ranthambhore National Park is famous for its tigers and offers great opportunities for photographers and wildlife lovers. The Ranthambhore National Park offers an intense diversity of flora and fauna. Explore the flora and fauna of Ranthambhore National park by taking jungle safari in morning and evening. Overnight stay will be at hotel.

Day 6: Ranthambhore
Continue exploring the amazing wildlife of Ranthambhore National Park by taking canter ride in the park. Overnight stay will be at hotel.

Day 7: Ranthambhore - Bharatpur
In morning you will be transferred to railway station to board the train to Bharatpur. Nesting indigenous water birds and migratory birds, Bharatpur bird Sanctuary is inhabited by Sambar, Chital, Nilgai and Boar. In the evening go out for bird watching. Overnight stay will be at hotel.

Day 8: Bharatpur - Agra
In morning, you will be driven to Agra, visiting Fatehpur Sikri on the way. Fatehpur Sikri was once the capital of the great Mughals. The great Mughal emperor, Akbar, built it. An excursion to the Taj Mahal and the Agra Fort is arranged in the evening. Overnight stay will be at hotel.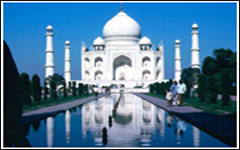 Day 9: Agra - Jhansi - Khajuraho
Board the morning train to Jhansi followed by a drive to Khajuraho. Khajuraho is known for its beautiful, exotic and stunning temple sculpture and craftsmanship. Take a tour of the exotic and erotic temples of Khajuraho in evening. Overnight will be at hotel in Khajuraho.

Day 10: Khajuraho - Bandhavgarh
Breakfast follows drive to Bandhavgarh Tiger Reserve. Bandhavgarh is an excellent habitat of tiger and is known for the highest density of tigers in the world. Take a jeep safari in evening to look out for the tiger and other wild animals. Overnight stay will be at hotel.

Day 11: Bandhavgarh
Continue exploring the Bandhavgarh tiger Reserve by jeep safari. Overnight stay will be at hotel.

Day 12: Bandhavgarh
Make most of your stay at Bandhavgarh by exploring the wildlife at the Bandhavgarh Tiger reserve. Overnight stay will be at hotel.

Day 13: Bandhavgarh - Kanha
Continue your wildlife hunt by driving to the Kanha Tiger Reserve. Kanha Tiger Reserve is one of the finest protected areas. At Kanha you can have a glimpse of different verities of wildlife i. e. porcupine, gray Langurs, mongoose, hyena, Jungle Cat and leopard. Other wild attractions include a variety of deer, Chital or spotted deer, Chousingha, nilgai as well as the majestic Gaur or Indian bison and wild pig. In the evening, take a glimpse of the park by jeep safari. Overnight stay will be at hotel.

Day 14: Kanha
There is no end to your excitement and adventure at Kanha. The morning and evening Jeep Safari helps you to explore the wildlife in the Kanha Tiger reserve. Overnight stay will be at hotel.

Day 15: Kanha
We will not let the adventurer and wildlife enthusiast in you disappointed as we facilitate you to continue discovering the rich and colorful wildlife in Kanha. Overnight stay will be at hotel.

Day 16: Kanha - Nagpur - Delhi or Mumbai
All good things come to an end and so is your wildlife tour of India. In the morning you will be driven to Nagpur to get the connecting flight to Delhi or Mumbai .




SEND ONLINE QUERY